BIOWORLDTM
ASIA
Concise. Actionable. Insight.
YOUR PRIVACY MATTERS
By submitting this request you are opting in to receive our emails. Each email we send you will include the option to opt out of receiving future mailings. View our privacy policy.
Read beyond the obvious, with timely, in-depth coverage of Asia's biopharma sector, with trademark BioWorld analysis and perspective on licensing deals, M&A and financings


Untangle the regulatory knots with articles that clarify the process in China and other key markets


Enhance partnering opportunities by getting to know the people and companies via BioWorld's signature BioPeople and NewCo News features


Recognize deal trends and various financing options available to fund R&D

Understand how the recent corruption scandals are affecting drug regulation in China and what that means for the biopharma industry


Comprehend the myriad regulatory paths for biosimilars


Assuage intellectual property concerns with articles that highlight this hot-button topic


Stay on top of clinical news with incremental updates on drugs in the pipeline from early to late-stage through regulatory reviews, approvals or denials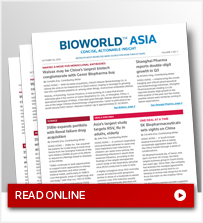 DOWNLOAD YOUR FREE ISSUE HERE

Interested in subscribing to BioWorld Asia?
Sign up or speak to your account manager today.
To learn more visit: bioworld.com

For Sales Inquiries:
In the U.S. and Canada: 1-800-477-6307
Outside the U.S.: 1-770-810-3144
Fax: 1-770-810-3145
bioworld.salessupport@thomsonreuters.com

For Customer Service:
In the U.S. and Canada: 1-800-336-4474
Outside the U.S.: 1-215-386-0100
Fax: 1-215-386-2911
bioworld.support@thomsonreuters.com
With BioWorld Asia you'll be able to:
Subscribe to BioWorld Asia today
* Please use a corporate email address